Rectangular trampolines give you more room to jump and a better bounce. But picking the best rectangular trampoline for your backyard can be intimidating. The internet would have you believe that rectangle trampolines are for professional athletes or gymnasts but are too dangerous for anyone else. That is not entirely true.
In this article, I'll describe everything you need to know about rectangular trampolines before you buy one, detailed reviews of my personal picks for the best rectangular trampolines, and a short FAQ to detailed to help you decide on the absolutely best rectangle trampoline for you and your family!
Rectangle vs. Round Trampolines
When it comes to trampolines, rectangular models offer a wider jumping surface and more bounce, which makes them more appealing for professional and aspiring athletes. Rectangular trampolines require lots of space to accommodate the whole structure and prove a safe fall zone around it. Rectangular trampolines need sturdy frames for support and stability—so while that large jumping surface is incredible, it does come with a higher price tag.
Round trampolines are an excellent option for recreational use and fun for the whole family. Round models are generally safer because of our natural tendency to bounce close to the center—but a trampoline enclosure net is still the best way to reduce the risk of falling off the edge, regardless of the shape of your trampoline. Also, round trampolines are more compact and better suited for smaller backyards.
A square trampoline can be a good compromise if you're looking for a bigger jumping surface but don't have the space for a rectangle trampoline.
Considerations Before you Buy a Rectangular Trampoline
Performance or Recreation
The first thing you need to consider is the reason you want a rectangular trampoline. Rectangle trampolines are designed for performance—they provide a larger jumping surface, superior bounce, and higher weight capacity than round trampolines. It's no wonder they're used by professional athletes!
These features make rectangle models ideal for experienced jumpers and athletes but that doesn't mean you can't just use them for fun.
While the larger jumping surface is better for gymnastics, it also provides more room for family play. And if you're planning to have adult jumpers, the higher weight limits also make rectangular trampolines a more suitable option for you.
If you have younger children, on the other hand, you may consider sticking with the round models for added safety.
Available Space
Your backyard must be big enough to accommodate your rectangle trampoline safely away from trees, walls, furniture, and other potential safety hazards. You should have at least an 8-foot safe fall zone around your trampoline.
Attention: Do not place your trampoline on asphalt or concrete unless you plan to have a safety enclosure net or crash mats.
Trampoline Size 
The next thing you need to decide is the size of your rectangle trampoline base on your needs and the size of your backyard.
The most common outdoor rectangular trampoline sizes range from about 6 feet to 14 feet in width and 10 feet to 17 feet in length but you can find larger ones.
For example, Happy Trampoline's Galactic Xtreme has a 13' x 23' model available, and at a whopping 16' x 24', the Vikan Goliath is the largest trampoline you can buy (unless you custom order one, of course).
Considering the recommended 8-foot minimum safe fall zone on every side, you can add 16 feet to both the width and length of the trampoline dimensions to help you choose the right trampoline size.
For example, if you're looking to buy a 10' x 14' trampoline, you will need at least a 26' x 30' area to safely accommodate your trampoline.
Weight Capacity
Generally speaking, rectangular trampolines have a higher weight limit than round trampolines because of the stress delivered to the springs. In rectangular trampolines, the load is not evenly distributed among the springs so when someone jumps on the mat, only some springs are activated. In a round trampoline, a jump will stress all springs, regardless of where the jump occurs.
Most rectangular trampolines are rated to safely hold about 300 to 450 pounds but some models have a weight capacity of over 800 pounds.
You might also like: How Much Weight Can a Trampoline Hold?
Safety Features
Regardless of its shape, it is always a good idea to outfit residential trampolines with safety features like safety net enclosures and safety spring pads. Even if you're a professional gymnast or your kids are experienced athletes, potential visitors may not be so use caution.
Most if not all trampoline brands offer the option to add a safety net and spring pad. The safety enclosure net prevents jumpers from falling off the edge. A spring pad closes the dangerous gap between the trampoline frame and the jumping mat. It also covers the springs to protect the hands and feet of jumpers that may get too close to the edge.
For extra safety, you make look for an enclosure net that is sewn onto the jumping mat with the springs on the outside.
Bounce Quality
The rectangular shape of the trampoline provides a better bounce overall. Anywhere you jump on a rectangle trampoline mat, you will experience the same rebounding power and height.
The length and quality of the springs will have a direct impact on your trampoline's bounce. Springs must be strong and remain stiff, and longer springs will give you a higher bounce.
Finally, the size of your trampoline matters—the bigger you go, the higher you'll jump!
You may also like: How to Do a Backflip on a Trampoline
Springs
The longer the springs, the more rebound and higher bounce you'll get. Of course, the quality of the springs is another important factor. Galvanized steel springs will give you a superior and smoother stretch. They're also less squeaky!
Stability
The rectangular shape is less stable than round to you'll want a trampoline frame that will not bend, warp, or move affecting the power of your jumps.
Look for a heavy-duty, sturdy frame. Galvanized steel is your best option: it is stronger, resistant to rust, and will likely give you more extended warranties. 
Galvanized steel is expensive but watch out for trampoline brands that use plain steel! Plain steel is not as strong and these frames are more likely to rust and show signs of damage. 
For a more affordable alternative, choose a steel frame that has been powder-coated for protection and rust prevention. 
Price Difference
Depending on the size of your rectangle trampoline, you can expect to pay anywhere between $300 for a small beginner's model, to around $3,000 for a solid trampoline option, to upwards of $20,000 for a professional trampoline. 
Warranty
As you can see, buying a rectangular can be a big commitment that will set you back thousands of dollars. For that reason, I recommend investing in quality. The best trampoline brands stand by their products and offer generous warranties, some even offer a lifetime warranty on specific components.  
Rectangular Trampoline Reviews
Now that I've covered the topics and features you need to consider before buying, here are my personal picks for the best rectangular trampolines: 
Best Rectangular Trampoline Overall
Designed in Finland, ACON trampolines are some of my favorites. They are made with top-notch materials, provide excellent bounce, and look great! 
The ACON Trampoline Air 16 Sport HD is no different. It is a high-quality trampoline that is suitable for all age groups. This sporty trampoline has an anti-slip mat, which ensures increases safety and makes it a perfect choice for families with kids. 
The ACON Trampoline Air 16 Sport HD also has a heavy-duty, black powder-coated frame made of galvanized steel, which makes it durable and sturdy. It is no wonder that ACON offers a 10-year warranty on this frame! 
This trampoline has no single user weight limit, a testament to how enduring and reliable the ACON trampoline materials genuinely are. 
The mat is cross-sewn UV-protected polypropylene, and the frame and poles are galvanized steel, as to be expected. According to reviewers on the ACON website, the trampoline comes with clear instructions, and the parts fit well together. Most found the trampoline easy to assemble but some found the net quite challenging to install. 
Overall, the quality of this trampoline is something no one can deny. Its durability is well worth the cost if you're seeking a spacious, reliable trampoline that can be used year-round and will please the entire family—even if you have a gymnast at home!
Details and Features
Brand: ACON
Ages: All ages
Safety Features: 128-inch safety enclosure net and a 1.4-inch thick vinyl spring cover
Standards: Meets or exceeds ASTM and CE standards
Dimensions: 17ft x 9.8ft
Weight Capacity: No single jumper weight limit
Trampoline Weight: 515lbs
Mat Jumping Area: 171in x 86in (102 sq. ft.)
Frame: 2.4-inch powder-coated, rust-resistant galvanized steel frame 
Springs: 138 pieces, 10-inch long springs made of galvanized steel
Bounce Quality: Superb! 
Aesthetics: Black, overall this trampoline has a very clean, polished look (which I love)
Extras/Accessories: Three-step ladder included
Assembly: According to a reviewer assembly was easy because "instructions are clear and simple, everything fit as it should." Manual has mostly pictures.
Warranty: ACON warranty on this trampoline includes 10 years for the frame, 5 years for the springs, mat, 2 years for other mat components and safety pad, and 1 year for the anchors, ladder, and enclosure.
Price: $$$
---
Best Rectangle Trampoline for Value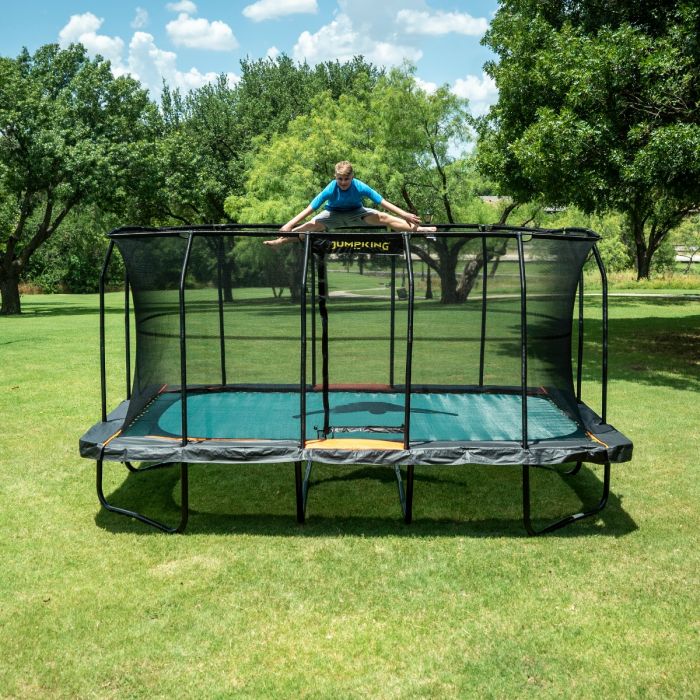 JumpKing is one of the most popular rectangular trampoline brands. They offer a variety of shapes, sizes, and colors for you to choose from.
The JumpKing Rectangular Trampoline 10'x16' Pro is made with high-quality materials including galvanized steel springs, UV-protected polypropylene jumping mat, and a rust-resistant galvanized steel frame with 6 black powder-coated legs and 12 poles steel frame that can withstand up to 260 pounds. 
The trampoline comes with a safety net made from high-quality PE with a dual zipper and clip closure. JumpKing also has a patented design for its enclosure poles to keep the safety net away from the trampoline poles while you're jumping.
Though not officially certified, JumpKing products are built to meet or exceed all standards set by the American Society for Testing and Materials (ASTM).
The JumpKing Rectangular Trampoline 10'x16' Pro offers a superior bounce and is a versatile rectangular trampoline for your whole family!
Details and Features
Brand: JumpKing
Ages: Recommended for ages 6+
Safety Features: Integrated safety net enclosure and spring cover pad
Standards: Meets or exceeds ASTM standards
Dimensions: 10ft x 16ft
Weight Capacity: 260lbs
Trampoline Weight: 394lbs
Mat Jumping Area: 112 sq. ft.
Frame: 2.24-inch rust-resistant, coated galvanized steel frame
Springs: 120 pieces in total – 112 galvanized steel springs, 8.5″ long plus 8 galvanized steel springs, 5.5" long in the corners
Bounce Quality: Excellent high bounce
Aesthetics: Black, green, and orange. While this trampoline is nice to look at, the loose spring pad is not as clean-looking as the ACON trampoline above.
Extras/Accessories: None included.
Assembly: Straightforward with an instructional manual provided.
Warranty: JumpKing offers this trampoline a 5-year limited warranty on its frame, a 2-year warranty on springs, jumping mat, jumping map components, spring cover pad and XPE foam sleeves, and a 1-year warranty on G3 poles and safety enclosure net.
Price: $$
---
Best Rectangular Trampoline for Value
You don't need the Force to use these trampolines. The Skywalker brand sells a variety of sizes and shapes, making their company versatile to meet various trampoline needs. 
Regardless of the size you pick, Skywalker trampolines feature a patented net enclosure to prevent the risk of pinching. It has rust-resistant steel springs that provide durability and the jump mat is all bouncy goodness! The only negative of this trampoline is its alloy steel frame, which is not as durable and sturdy as the galvanized steel options but that is reflected in the price of this trampoline. 
The Skywalker rectangle trampoline enclosure is padded and tested to a maximum weight capacity of 800 lbs. So when it's time to play basketball with the optional basketball hoop, you can jump and dunk without hesitation (see what I did there?). 
Just beware that this trampoline is a bit on the squeaky side, which is expected for its price point. Overall, the Skywalker Rectangle Trampoline Jump-N-Dunk with Enclosure (15'x9') is a solid choice if you're looking for a recreational trampoline in a smaller size that won't break the bank!
Details and Features
Brand: Skywalker
Ages: Recommended for ages 6+
Safety Features: Made with soft, safe-play materials. Its patented enclosure eliminates gaps between the net and the jumping mat.
Standards: Meets or exceeds ASTM standards
Dimensions: 15ft x 9ft
Weight Capacity: 250lbs
Trampoline Weight: 220lbs
Mat Jumping Area: 92 sq. ft.
Frame: Uncoated alloy steel frame
Springs: 84 pieces in total – 80, 7″ long plus 4, 5.5" springs
Bounce Quality: Great bounce
Aesthetics: Black and blue. The uncoated frame leaves the silver steel exposed.
Extras/Accessories: You have the option to add a trampoline basketball hoop.
Assembly: The instruction manual does not contain images, which makes assembly harder if you never put a trampoline together. Many reviewers report hiring help to put it together. 
Warranty: Skywalker offers a 3-year limited warranty on the frame and a 1-year limited warranty on all other materials.
Price: $
---
Frequently Asked Questions
Why are rectangular trampolines more expensive? 
Rectangular trampolines are designed for performance and that calls for high-quality materials to deliver that superior bounce, stability, and safety which translates into a higher price tag than round models.
Conclusion
Rectangular trampolines offer a larger jumping surface and a better bounce experience than round trampolines. While their focus is on performance, rectangle trampolines are very versatile and can provide years of fun. With some basic safety features in place, your whole family will be able to enjoy it. From young kids to aspiring gymnasts and active adults! If you have the space in your backyard for a rectangular trampoline plus the 8-foot fall safety buffer all around, you'll not regret getting one!
Related content:
Round vs. Rectangular Trampoline
Round vs. Square Trampolines