Being a parent is tough.
There are no two ways about it, of course, it is one of the most rewarding jobs in the world but that doesn't make it easy.
One of the biggest challenges that we come up against as parents are our instinct to protect, of course, it's always necessary to keep your child safe from harm.
However, sometimes the urge to keep them safe can become overbearing.
Much like stress or anxiety, it can be triggered by risk-free or low-risk events just as a means of protection.
It is completely natural to want to wrap your little one in cotton wool and look after them forever, but when is it okay to loosen the reins?
One of the most difficult aspects of this is finding the balance between risk and development and that can be really difficult to achieve.
It is important that your child participates in exercise and clubs but figuring out at what age can be difficult.
In terms of gymnastics this is an impossible question to answer, much like the age-old question 'how long is a piece of string' there is not one simple answer but rather many possible answers depending on numerous factors.
How Do Gymnastics Classes For Young Children Work?
Before you can even begin to consider when your child should start gymnastics you will need an understanding of what exactly gymnastics classes involve.
Every class and every gymnastics school is different so the best way to achieve an understanding is to contact the person or center that runs the class that you are considering directly.
The good news is that most classes are structured based on age or ability so it is very unlikely that your 12-month-old toddler will be getting knocked down by an Olympic gymnast.
Most classes have a minimum joining age and it is important to listen to this for the safety of your little one.
What Do Baby Gymnastics Classes Involve?
One type of class that has been growing in popularity across recent years is baby gymnastics.
Obviously, this does not involve six-month-old babies trying out the trapeze rather, it is tailored to the needs of babies.
Baby gymnastics often involves a lot of soft play where they can eventually build their confidence and skills up to climbing on some of the equipment.
Baby gymnastics classes focus on social interaction and developing vital skills such as coordination.
Consider The Skills That Your Child Already Has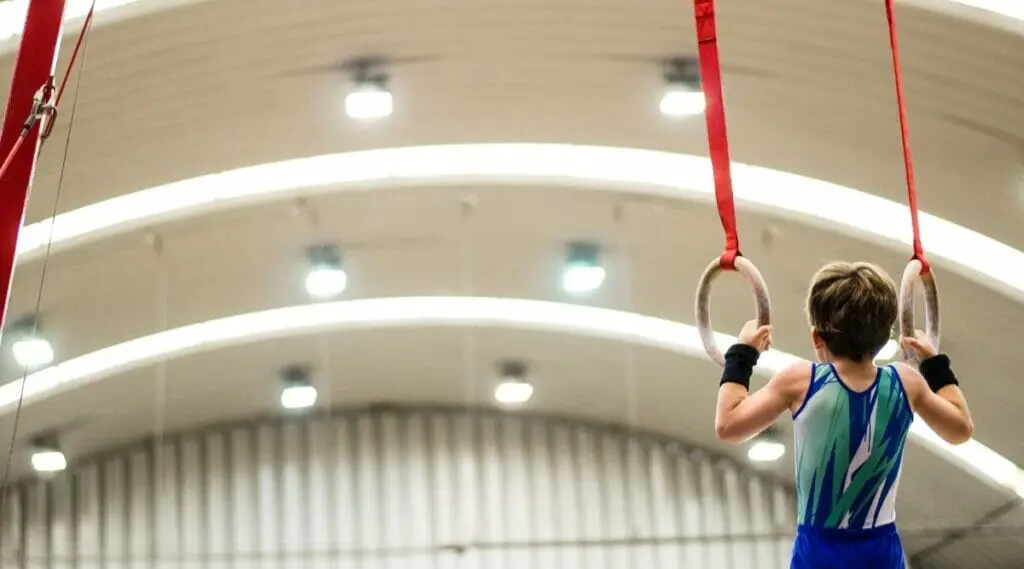 When trying to decide whether or not your child is ready for any new class one of the best things that you can do is think about the skills that they already have.
It is important to constantly grow and develop your baby's skillset so knowing where they are up to is of great importance.
When it comes to baby gymnastics there aren't many prerequisites and they will be determined by individual gymnastics clubs.
One thing to be sure of when signing up a very young baby is that they are at the stage where they have the potential to enjoy the class.
For instance, a newborn baby would not have the capacity to completely understand their surroundings and they would potentially sleep through the class.
Therefore, it is important to consider whether or not your baby is alert enough yet to enjoy and engage with the class.
Depending on the exact specification of the class that you are looking at it may be a good idea to wait until your baby can at least sit up.
This is because, before this point, they would struggle to engage in certain activities such as soft play.
Of course, you can always interact with them but perhaps, they might not get as much out of it as they would if you waited an extra couple of months.
Once again, depending on the exact class it might even be better to wait until your little one is toddling around.
This is because if it is a very practical session it may be very difficult for your little one to get involved if they can not yet join in with running around and climbing on even the simplest of apparatus.
Being behind their peers could have a negative impact on their well-being even at a young age so it is really important to think about this.
However, on the other hand, being around slightly older children can help babies and toddlers to pick up skills much quicker than they would have otherwise done.
Give It A Go
As long as your little one meets all of the classes requirements then there is no harm in giving it a go.
It is impossible to get a proper feel for a place without visiting, so this is the only way for you to truly know whether or not this is the right setting for your child at this time.
If the option is available, do not sign into a contract rather ask if you can just pay to come to one class to see how it all works.
Listen To Your Child
If you decide to go and try a class out then that is fantastic but try to really focus on whether or not your child enjoys it.
If they do not seem to enjoy or engage in the class then perhaps wait a few months or try somewhere else.
Making your child go somewhere that they do not enjoy themselves will be counterproductive and will not be an enjoyable experience for you or them.
Final Thoughts
When your child starts gymnastics is ultimately up to you, depending on their age.
However, there may be a certain age or ability restrictions that mean you need to wait a while.
Although these restrictions may initially seem annoying and unnecessary, it is really important that you listen to them as taking your child too soon could be detrimental to their safety or their development.
As long as all of the requirements are met, why not give it a go and see whether or not your little one enjoys it.