Are you someone who has always been curious about trampolines but never took the leap because of safety concerns?
Well, I recently tried out Jumpfly's Outdoor Trampoline with Enclosure Net (and Basketball Hoop), and let me tell you, it exceeded all my expectations! From the ultra-durable steel frame to the innovative G-shaped springs, this trampoline is designed to ensure optimal safety and long-lasting enjoyment.
As a bonus, the Jumpfly trampoline comes with a basketball hoop and handy shoe storage making it the perfect addition to your family's outdoor fun.
In this Jumpfly trampoline review, I'll discuss everything from the packaging to installation and the final product. So, without further delays, hop on below to see if the Jumpfly Trampoline is. good fit for you.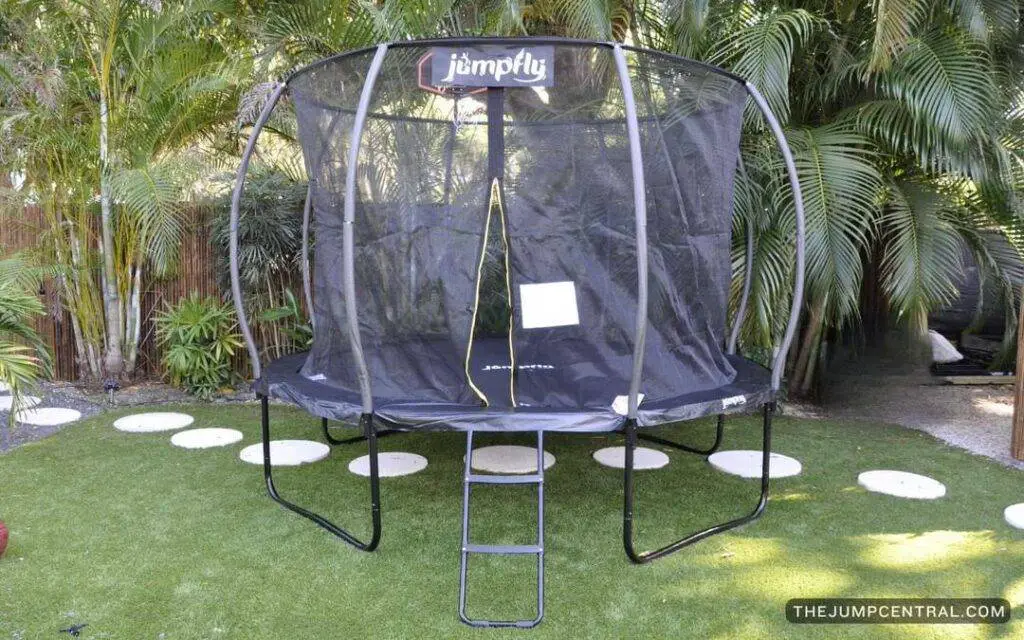 Table of Contents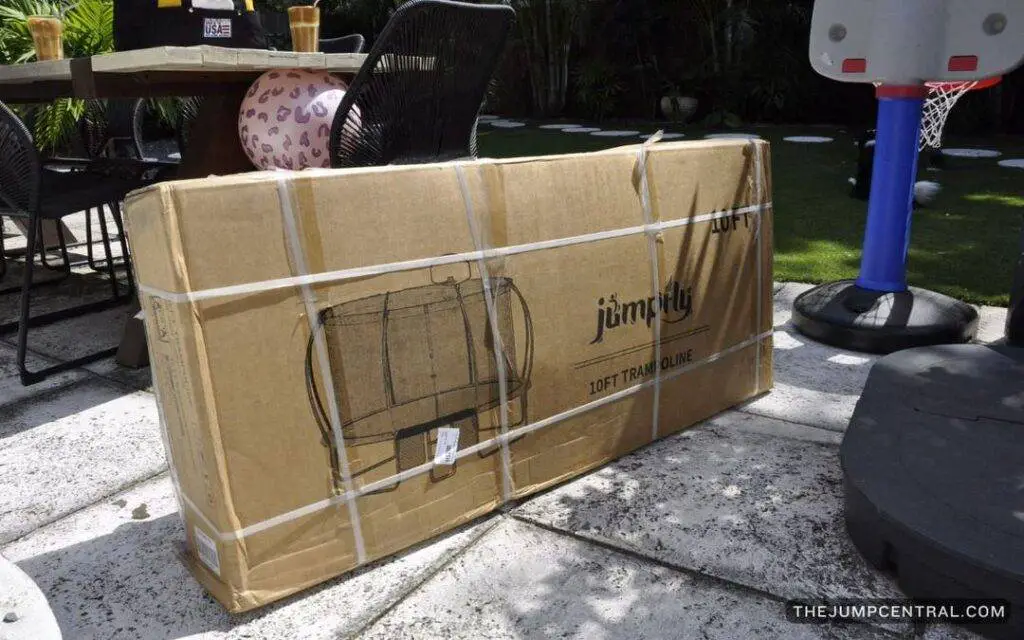 A Glimpse at the Features of Jumpfly Trampoline
Wondering what inspired me to get this nice-size boasting outdoor trampoline with basketball hoop? A long list of advantages comes along. Let's have a look at a few!
Quick and Easy Assembly
The Jumpfly trampoline comes with very clear and easy-to-follow instructions and it took two people about 1.5 hours to assemble.
We did need the two, especially to put together the frame itself and to hook the safety net along the top—you have to bend the thin frames that hold the safety net to secure them in place, and that required some muscle.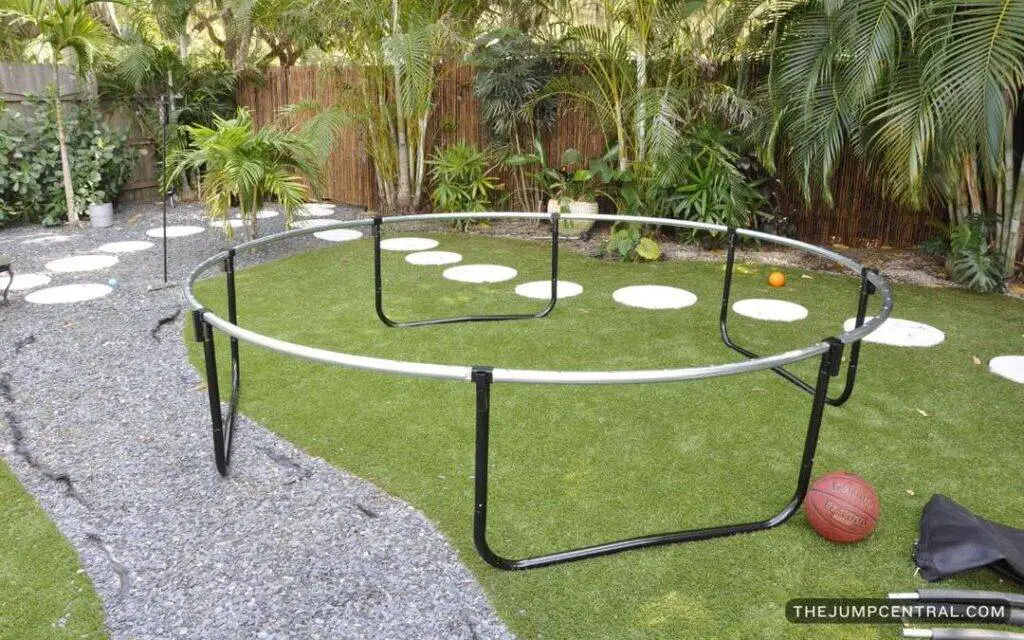 With two people, it was easy to link the entire frame using only the T-joiner steel and zero nuts and bolts. The round frame is held together by the tension of the mat and springs
We didn't even need any other installation tools, except for the ones that came in the package; even the spring tool was there. The basketball hoop itself was a little annoying to put together because of the position of the screws but overall, a pretty intuitive assembly.
With the screw-less smart design of this 10ft Jumpfly Trampoline; assembly is not something you need to worry about.
Ultra-Durable
Jumpfly Trampoline's 38*1.2mm (thickness) heavy-duty steel frame features durable components with 3-layer rust-proofing. Moreover, all of the metal components included in the package are galvanized inside and out with a head-wearing zinc coating to ensure ultra-durability and anti-rusting.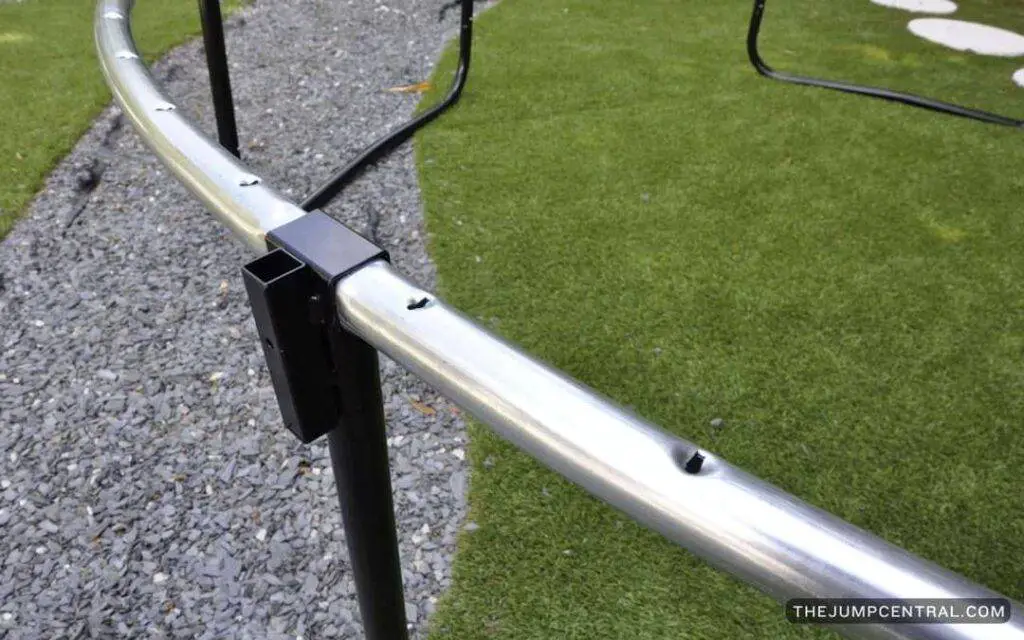 UV-Resistant Coating
This outdoor trampoline has a UV-resistant coating for long-term protection against premature fading and the scorching rays of the sun.
G-Shaped Springs
It comes with innovative G-shaped springs that can hook the jump mat firmly. These hooks ensure no slipping or tearing. Springs are covered by padding, and the safety enclosure keeps them outside of the jumping area. Be sure to enjoy another level of experience when deep bouncing at the Jumpfly Trampoline.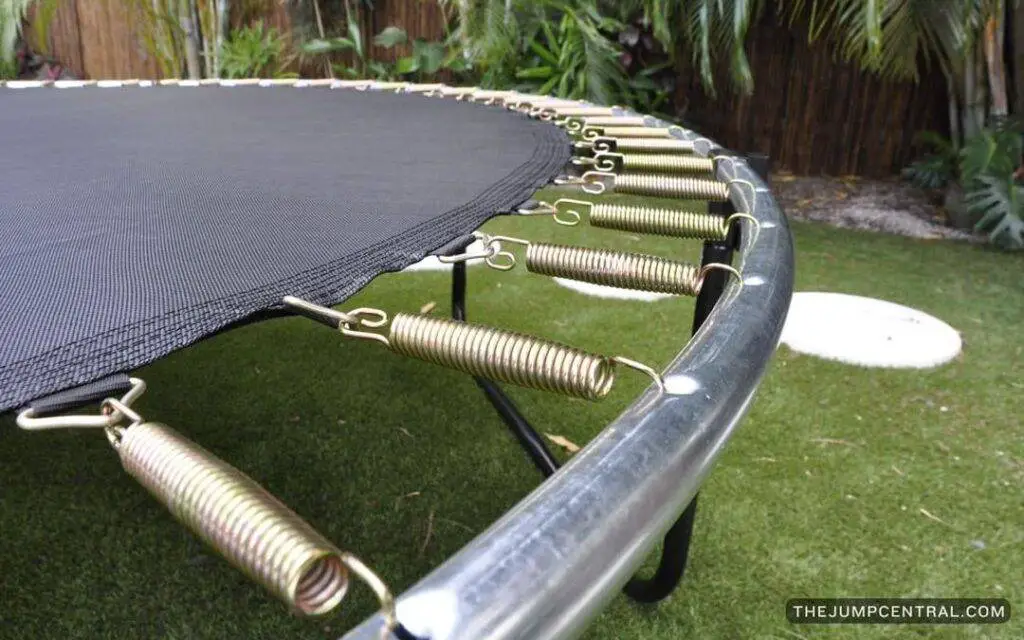 Curved Guard Pole
Besides the safety enclosure, the poles of this trampoline are also curved to avoid collisions. It did make it seem like the curved guard poles would make it safer for the kids to jump on this trampoline.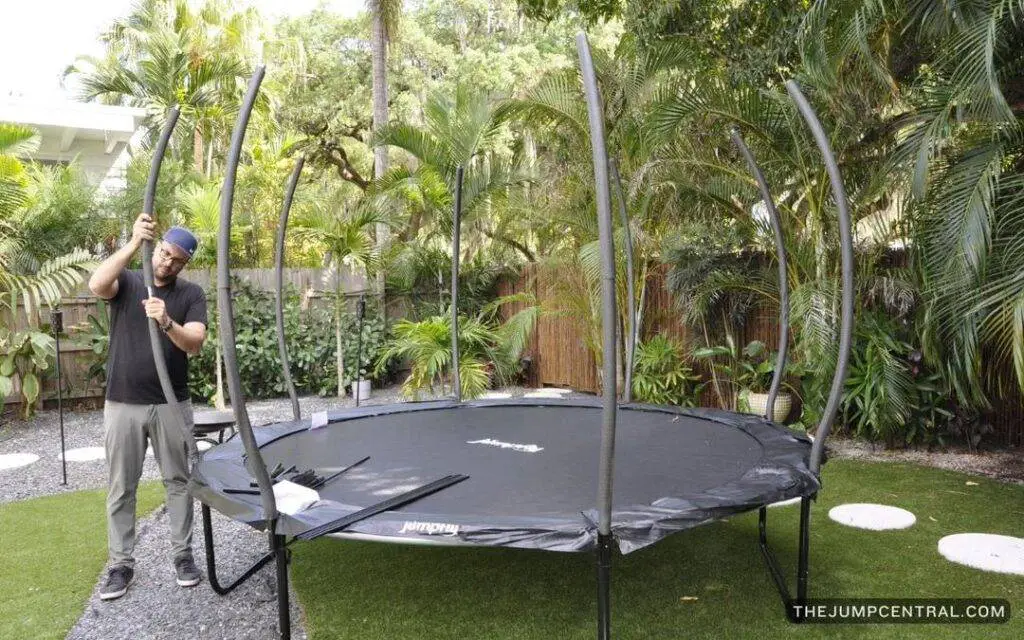 Safety Enclosure
One of the greatest features of this trampoline is its safety enclosure. With it, I was assured about the safety of my kids as it ensured the jumpers were guided back to the jumping surface safely and securely.
Just shut the zip to eliminate the possibility of kids falling out, the greatest fear I had that kept me from buying a trampoline for years!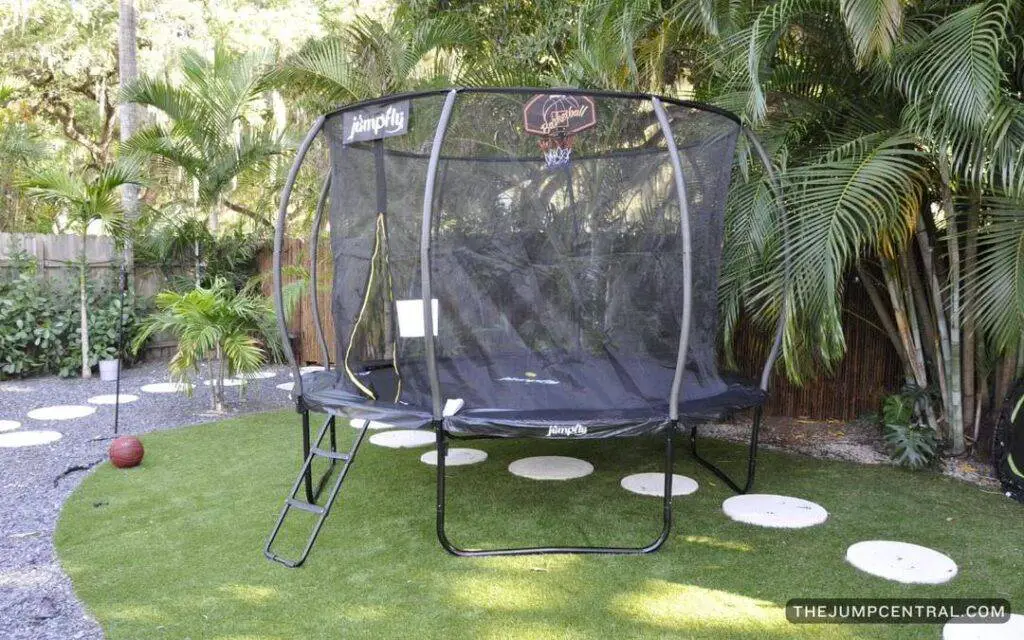 Jumpfly Warranty
Jumpfly Trampolines come with multiple warranties for different components, including a 10-year warranty for frame tubes, a 3-year warranty for springs and jump mat, and a 1-year warranty for a safety net, net poles, and safety pads.
Safety Features
Here is how Jumpfly Trampoline ensures the optimal safety of its jumpers!
Globally Certified – Jumpfly ensures to meet multiple international standards, including the Business Social Compliance Initiative and Intertek detection and the American Society for Testing and Materials.
360-Degree Net Enclosure – Jumpfly Trampoline features a comprehensive safety enclosure system that covers the entire jumping mat.
Quality Verified Testing – Jumpfly ensures to deliver of premium quality products to its customers, winning their hearts. A specialized team ensures rigorous testing and strict quality inspection, making it durable.
Ability to Withstand All Weather Conditions ­– This trampoline is designed to on remain 24/7 standby. It can withstand weather, be it stormy, windy, or whatever.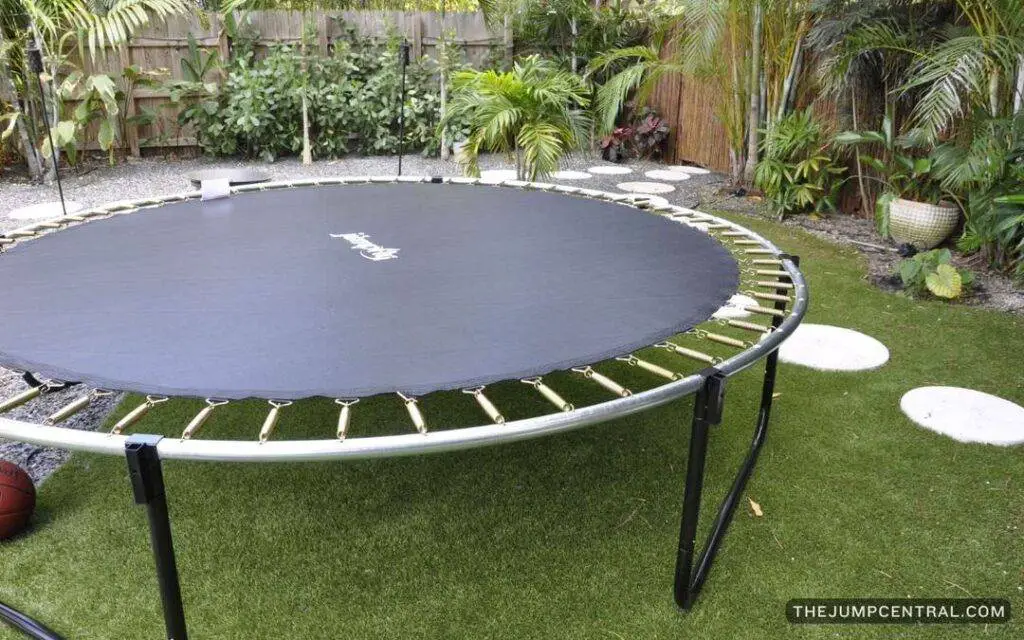 Package Details
It came in one large box, which was pretty heavy but nice and sturdy. It was well-packed to ensure no damage. The package included the following along with the Jumpfly Trampoline:
Basket Ball Hoop – I got an easily attachable trampoline basketball hoop. It's ideal for an impromptu game!
Ladder – It proved one of the must-to-have accessories for my kids. A trampoline with a basketball hoop has a decent height, making it easy for them to get in and out without assistance.
Anchor Kit – The Jumpfly trampoline also comes with a free anchor kit. The stakes help anchor the trampoline to the ground for added safety and to keep it from flying away during a storm!
Installation Tools – All that we needed to install the trampoline was included in the package, each and every tool.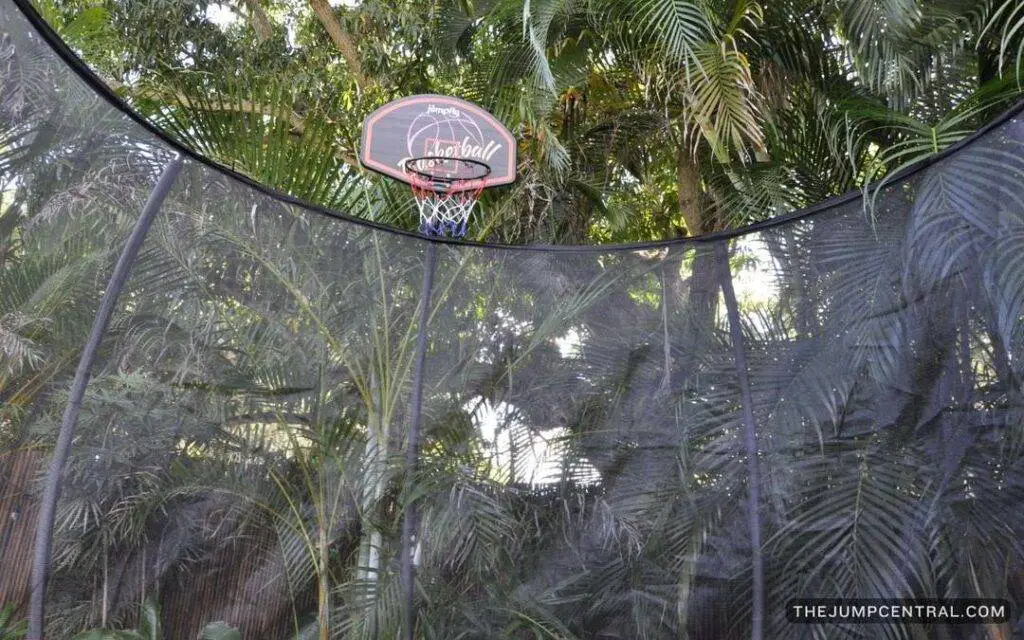 Available Jumpfly Trampoline Dimensions
Here is a detailed breakdown of the different dimensions you can get in this Jumpfly Trampolines.
| Measurement | 10 ft. | 12 ft. | 14 ft. |
| --- | --- | --- | --- |
| Enclosure Height | 66.9 in. | 66.9 in. | 70.9 in. |
| Frame Height | 27.6 in. | 33.5 in. | 33.5 in. |
| Mat Width | 103.9 in. | 127.2 in. | 149 in. |
| Frame Width | 119.7 in. | 144.1 in. | 168.1 in. |
| Weight Capacity | 330 lbs. | 400 lbs. | 450 lbs. |
Jump to Conclusion
Jumpfly trampolines are an absolute game-changer if you're looking to add some excitement and fun to your backyard! With its durable steel frame, G-shaped springs, and safety enclosure, Jumpfly trampolines provide excellent safety and long-lasting enjoyment. And let's not forget about the added bonus of a basketball hoop!
Whether you're an acrobat, gymnast, or simply someone looking to bounce away some stress, the Jumpfly Trampoline is the perfect fit for you.
So go ahead, take the leap, and add some thrill to your family's outdoor adventures with the Jumpfly Trampoline!
That was all about the Jumpfly Trampoline review. Hope you find this review worth reading. Stay tuned for more informative articles.