If you're reading this article, there's a good chance you've heard of, or are thinking about buying your very own Springfree trampoline.
Springfree is a pretty big name in the trampoline business, having been around since 2004 and changing the way engineers thought about trampoline design.
The biggest factor of Springfree's success is that they pride themselves on having the safest trampolines in the world.
Anyone who's ever owned a trampoline for their kids knows just how easy it can be for accidents to happen.
That's exactly why Springfree wanted to step in and find a way to reduce the risks associated with bouncing around.
That all sounds good in theory, but you might be wondering whether Springfree trampolines are actually any good at allowing kids to play more safely.
Are these trampolines even worth the money compared to other, cheaper brands?
Well, in this article, we'll be answering all of these questions and more.
We're going to take a closer look at how Springfree makes its trampolines safe, take a look at some of their products and ultimately decide whether they're worth thinking about.
How Are Springfree Trampolines Safer Than Other Brands?
Like we said at the start, safety is absolutely at the forefront of Springfree's marketing material.
The inventor of the Springfree trampoline, Dr Keith Vivian Alexander, was an engineering professor who noticed how dangerous traditional trampolines could be and decided to design his own.
He identified that the three most dangerous parts of a trampoline were the springs, the steel frame and the ground underneath.
In 1999, he began designing his first prototypes for a newly designed trampoline and in 2009 he won an Australian Design Award for his creation.
So what is it about the design that makes Springfree trampolines so much safer?
The Springs
The main thing to note about the springs in a Springfree trampoline is that… well… there aren't any!
Instead of the typical steel coil springs that cause so many accidents on trampolines, Dr Keith opted for glass-reinforced plastic rods which are arranged in a diagonal pattern beneath the jumping surface.
When you see the arrangement of these rods for the first time, it's pretty tough to believe that the trampo;ine will even work.
However, thanks to some engineering brilliance, the Springfree trampoline works just as well as a regular trampoline, minus the hazardous metal springs around the edge.
The Edges
Another seriously hazardous part of a conventional trampoline is the metal edges that hold the jumping surface together.
Previously, it was believed that this metal frame was necessary for holding the entire trampoline together and that other, softer materials would cause the whole thing to fall apart.
However, Springfree eliminates the need for hard edges to the jumping surface and has a shock absorbent edge, made with a much softer material.
Of course, many modern trampolines with metallic frames will have some sort of cushioned cover for the dangerous metal but this actually does little to eliminate injuries.
With the Springfree design, it's pretty much impossible to get hurt by landing on the edge of the trampoline.
The Frame
One of the other hazards Dr Keith identified with conventional trampolines was to do with the ground and frame underneath the jumping surface.
With the Springfree design, there are no longer any metal supports or frames underneath the jumping surface and there is plenty of room between that surface and the ground underneath.
Springfree refers to this design as a 'hidden frame'.
This is because all the support needed to make the trampoline work is still there, it's just kept out of the way of those jumping on it.
The Fence
Having a net or mesh perimeter fence around a trampoline is definitely not a groundbreaking development these days.
In fact, many manufacturers now offer trampolines with a fence around the edge.
Fences are great for preventing accidents caused by people falling off the edge of the trampoline. Children, for example, can easily lose control of themselves while bouncing and end up soaring through the air towards the hard ground next to the trampoline.
The fence is the perfect measure to prevent this from happening. However, the conventional design of trampoline fences still wasn't safe enough for Dr Keith.
Typically, they tended to bend outwards, leaving plenty of room for bouncers to hurt themselves on the metal frame around the edge of the trampoline or fall through a gap between that frame and the fence.
With the Springfree design, the fence actually curves inwards, gently guiding jumpers away from the edge and back towards the center of the jumping surface.
Similarly, the fence is connected firmly to the edge of the trampoline so there's no danger of anyone falling through a gap in it.
Are Springfree Trampolines Still Bouncy?
This is a fair question to ask, especially considering how different the design of Springfree trampolines is from conventional ones.
The general consensus from customer reviews is that Springfree trampolines are just as bouncy as regular trampolines, if not even more so.
With conventional trampolines, the bounce comes from the metal springs, which are connected to the jumping surface horizontally, from the side of the metal frame.
However, the unique design of the flexible rods and their placement underneath the edge of the jumping surface means that even more bounce can be generated.
When someone lands on the surface, it compresses the plastic rods downwards, which then forces them to spring back upwards, meaning less of the work has to be done by the person's legs.
Springfree Products
Now that we've established just how safe and good for bouncing Springfree trampolines can be, let's take a look at the range of products they offer.
There isn't really much difference in the quality or bounce design of each of Springfree's trampolines, rather the differences are in the size and shape of each product: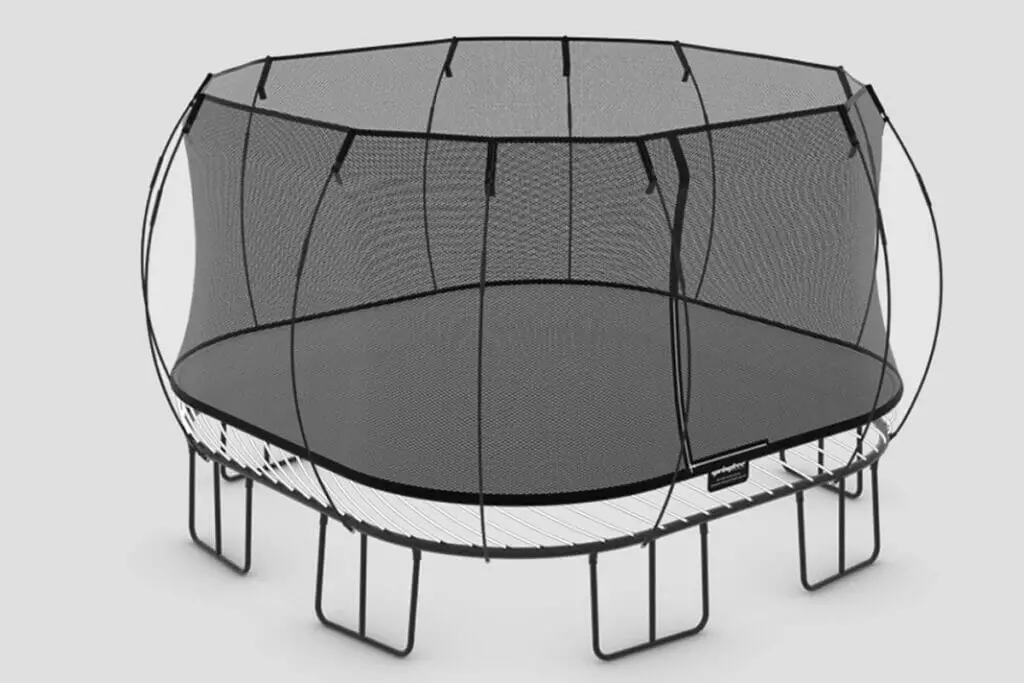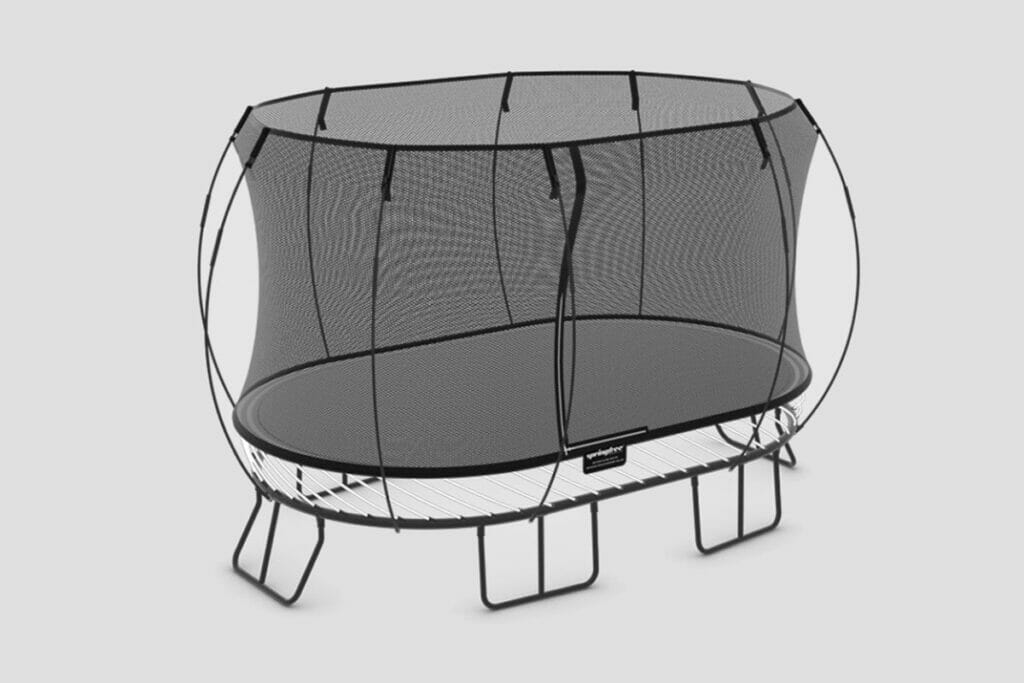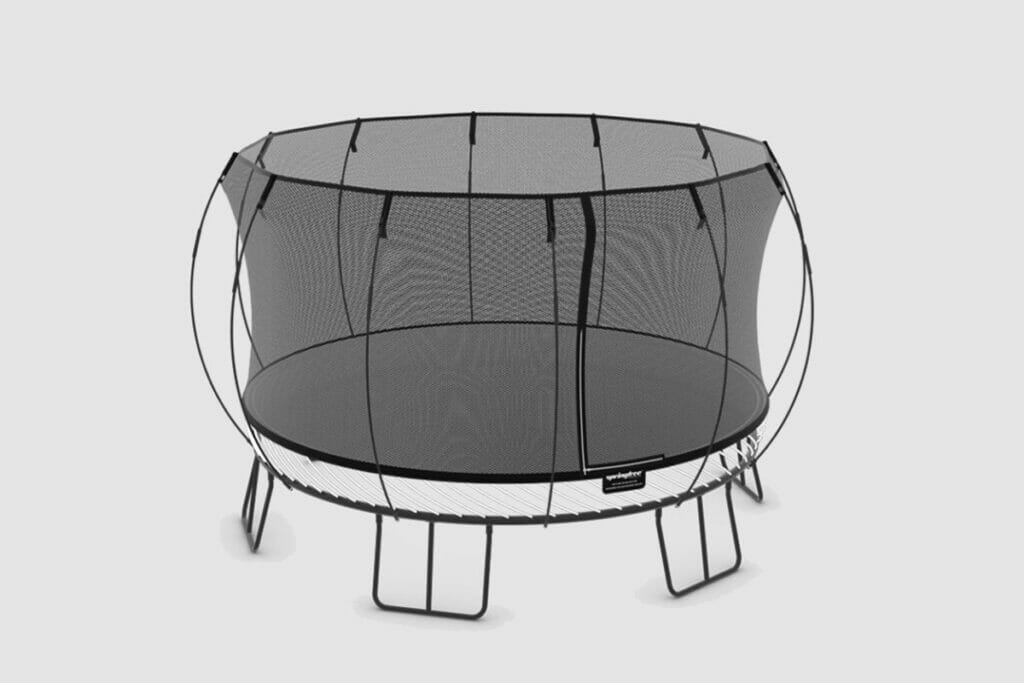 As you can see, there are three different shapes of trampoline that Springfree offers: square, oval and round, and these all come in a variety of sizes.
Again, there really isn't much difference in quality between any of these shapes and sizes so your decision to choose any one of these options will be based on two other things: your budget and your backyard.
Naturally, the larger sizes will cost more, so be conscious of your budget when selecting a size.
Also, when deciding what shape to get, you should think about where the trampoline will be placed in your yard.
It's a good idea to measure out the space too, and be aware of any bushes, trees, fences or other obstacles that might make one shape a better fit than another.
It is also worth noting that certain shapes and sizes can be out of stock at any given time, especially around the holiday season.
If you see that your desired trampoline isn't in stock, it might be worth contacting Springfree directly to see if there's a chance of them having it at some point in the future.
Why Is Springfree So Expensive?
If you've shopped for trampolines before, you may have noticed that Springfree's products are certainly on the more expensive end of the scale.
However, for that extra price, you'll be getting one of the highest quality trampolines around, as well as some great customer service.
Springfree's trampolines famously come with a 10 year warranty, which is way more than most other trampoline companies offer.
This warranty covers every component of the trampoline, which can be replaced free of charge if they become damaged.
Also, when you buy a Springfree trampoline, you're paying for excellent customer service.
Springfree offers free installation at your home and will send a team of professionals to have your trampoline up and running in less than an hour!
If you ever have an issue with your trampoline or are looking for help regarding it, Springfree also has a fantastic customer support service and you can easily get in contact with a real person who will help you with whatever issues you're having.
Are Springfree Trampolines Worth it?
For such a hefty initial investment, it can be difficult to determine whether spending extra on Springfree over another brand is even worth it.
Well, we can easily conclude that Springfree is worth the extra money you'll spend on it compared to another brand.
The 10 year warranty means you can have any part replaced (under certain circumstances) free of charge and you might even find that your kids outgrow the trampoline before it ever stops working!
However, the main factor that contributes to Springfree's value is its safety.
You can't put a price on your chiildrens' safety and Springfree is able to reduce the risk of injury by up to 90%. That's definitely something you won't find with any other trampoline provider.
Final Thoughts
Overall, Springfree is a fantastic trampoline company that has produced some revolutionary technology.
The genius of Dr Keith Vivian Alexander has gone a long way in preventing accidents and injuries with children over the years he's been making these trampolines, too.
If you have the space in your backyard and your budget to get a Springfree trampoline for your kids, they'll be thanking you for it for years.
Happy bouncing!