If you're looking for a trampoline for your garden, you might be confused as to the vast range of trampolines on offer.
After all, there are many brands that specialize in making trampolines to suit all kinds of needs.
They can differ in size, shape, color, and almost anything else you can think of that relates to trampolines.
Skywalker Trampolines is one of the most well-known names when it comes to this area of the market, and it has a long history of providing top-quality products.
They sell trampolines for kids and adults alike, so everyone can experience the fun of bouncing.
Here, we explore their products in detail, assessing them on the various factors that people consider when making a new purchase decision.
Safety
All the models in the Skywalker range come with a net enclosure.
Although you can get trampolines without from elsewhere, the company made the decision in 2004 to include them as standard, which has been their policy ever since.
This shows that safety is their priority – you can let your kids play to their heart's content without worrying about them falling off.
Trampolines with a net are safer than ones without, so it makes sense to get one with this feature.
Every product in their extensive catalog has been thoroughly tested to match the high standards of the ASTM (American Society of Testing Materials).
That means everything is absolutely safe and gives you extra peace of mind.
The poles supporting the enclosures are padded with foam, which reduces the chances of accidentally hitting your head if you lose your balance.
Read also: Jumpfly Trampoline Review
Range
The Skywalker collection includes standard trampolines, mini trampolines and premium trampolines, as well as various other sports equipment that isn't related to trampolines.
Within each category there are plenty of options to choose from, so you can pick exactly what sizes and other features your trampoline has.
It is important to be able to find a size that will fit comfortably in your garden or other outdoor space, because trampolines are large items and may turn out to be bigger than you were anticipating.
The premium trampolines are larger and more expensive, because they cater to specific needs that standard trampolines don't.
Top Products
So, we've given you a general overview of the Skywalker company and what it offers.
Now let's take a look at some specific products that deserve a special mention.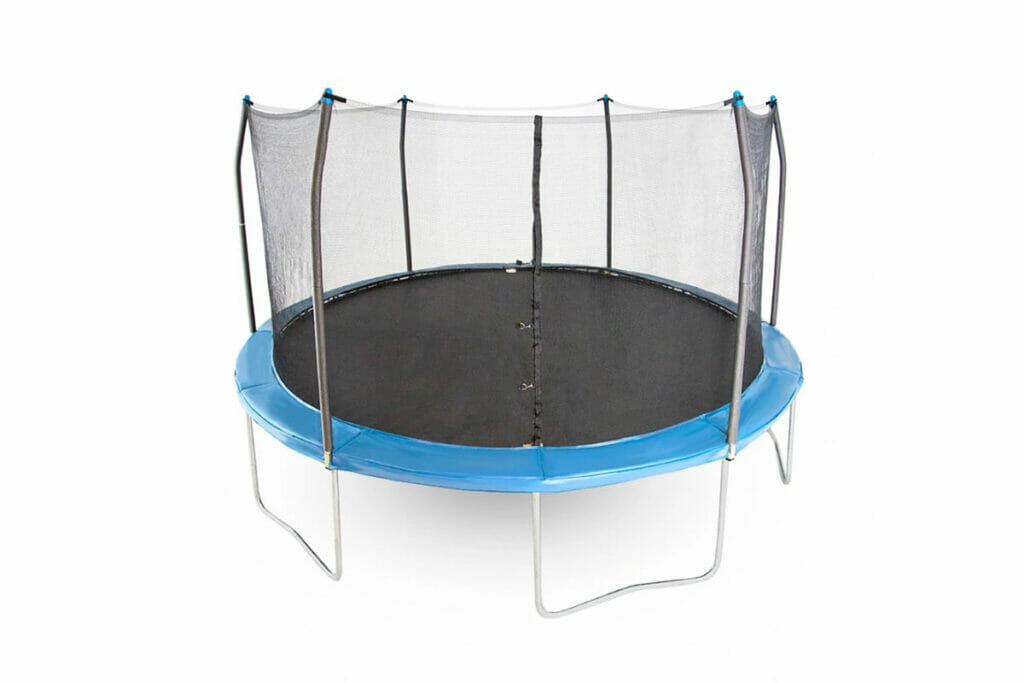 As far as trampolines go, 15 feet is arguably the ideal size, giving you lots of space to bounce and perform tricks.
The enclosure is patented with a no-gap system, whereby it is secured to the trampoline at each spring to make sure there's no danger of slipping through the sides.
You can also get the exact same model in other colors including purple and camo – we found that blue was the best option to please everyone in our family, but your tastes may differ.
Talking of springs: there are a total of 96 of these around the trampoline edge.
They are made of galvanized steel for extra strength and are protected by spring pads that are resistant to UV light.
In addition, the steel in both the frame and the springs will not rust.
This means the trampoline can be kept outside in any weather conditions without compromising the quality.
When we put more than one person on the trampoline at the same time, we thought it would feel slightly unstable under the increased weight.
In actual fact, we felt very comfortable bouncing just as high as we would usually – this is because the rigorous testing it went through ensured that it could take high loads.
The instructions recommend 275 pounds as the maximum weight for use, but it has actually been tested up to four times that amount.
Pros
Great size for most gardens.
Frame comes with a 3 year warranty, and a 1 year warranty on the rest of the body.
Incredibly bouncy, making you feel like you're flying.
Base is easy to assemble, and can be completed within an hour in most cases.
Cons
The springs can be squeaky as you bounce.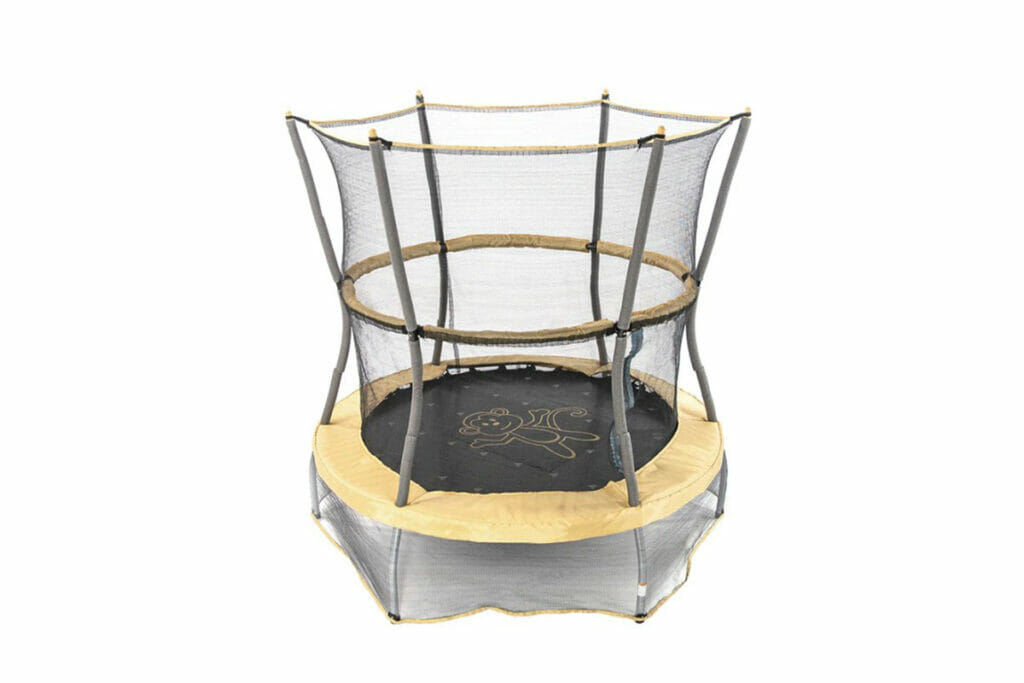 Mini trampolines seem to average around 40-50 inches in diameter, although the Skywalker mini trampoline range varies from 36 to 60 inches.
This means you can choose one to suit the size of your child as they grow (just don't be tempted to have a sneaky go on it yourself, as these are definitely not made for adults!).
While the overall design of this is mischievous and energetic, any child will soon be worn out after a good bouncing session.
Because an enclosure on a mini trampoline can make the limited space inside feel even smaller, the frame is shaped so that it gets wider at the top.
This stops users feeling cramped and allows them to explore a larger air space at the top of every bounce.
Not only this, but there is also a bar running around the inner perimeter for your little one to hold onto, as they get to grips with using the equipment.
This is great because developing legs aren't very strong yet in comparison to grown ones, so they sometimes need some extra help to keep the body upright.
Now we get to the really fun part: this trampoline comes with a built-in sound box, offering an array of delightful sound effects.
My cheeky 5 year old especially loves the monkey noises, and tries to imitate them while bouncing – this purchase has really helped capture her imagination, giving her more confidence both at home and at school.
The monkey picture on the trampoline body is the perfect final touch and makes this model stand out from the plain ones available elsewhere.
Pros
Enclosure is attached directly to the trampoline material, which means even the tiniest children can't fall through accidentally.
Supports your child's development and creativity.
Cons
Assembly can be quite complicated and fiddly, so may require several people to help.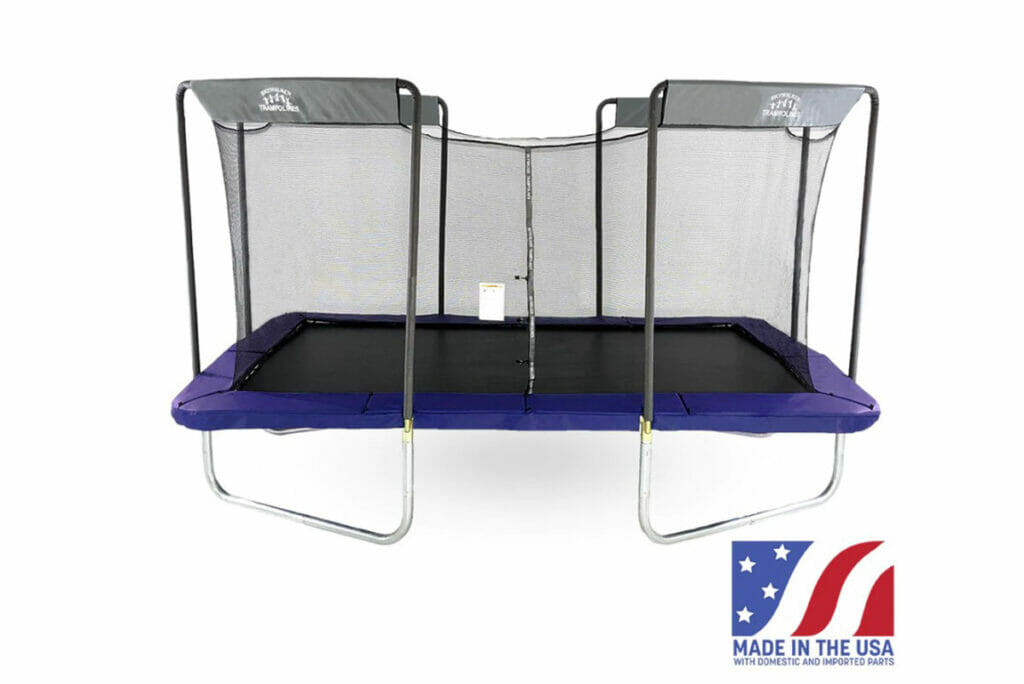 Get ready to wow your friends with this impressive rectangular trampoline.
It is the same size as a regulation Olympic trampoline, and is particularly excellent for people who are serious about taking their trampolining to the next level.
The springs are 50% bigger than those on the smaller trampolines, with each one controlling itself independently from the rest.
This allows you to take off and land evenly anywhere on the trampoline, so you can concentrate on refining your technique.
While the focus on this design is on functionality rather than aesthetics, it is nonetheless available in two different colors: blue and green.
To most determined athletes, the color won't make much of a difference, but it is still good to have the choice there should you want it.
Both are common shades for trampolines and aren't bright enough that they could cause distractions while bouncing.
This model comes with all the standard features that Skywalker are known for, including the UV-resistant spring pads, reinforced steel frame and no-gap enclosure.
There are 2 zippers on the net, as well as a clip closing mechanism so you can feel extra secure.
All parts are produced in the USA, so you know you are getting the best local quality.
Pros
Rectangular shape provides the highest lift on every bounce.
Fantastic product for improving technique as well as having lots of fun.
Maximum recommended weight is 350 pounds, which can comfortably hold two fully-grown adults.
Cons
Significantly more expensive than other models – you need to be sure about the investment before purchasing.
Requires up to 2 weeks extra for shipping, so make sure you are prepared for the wait.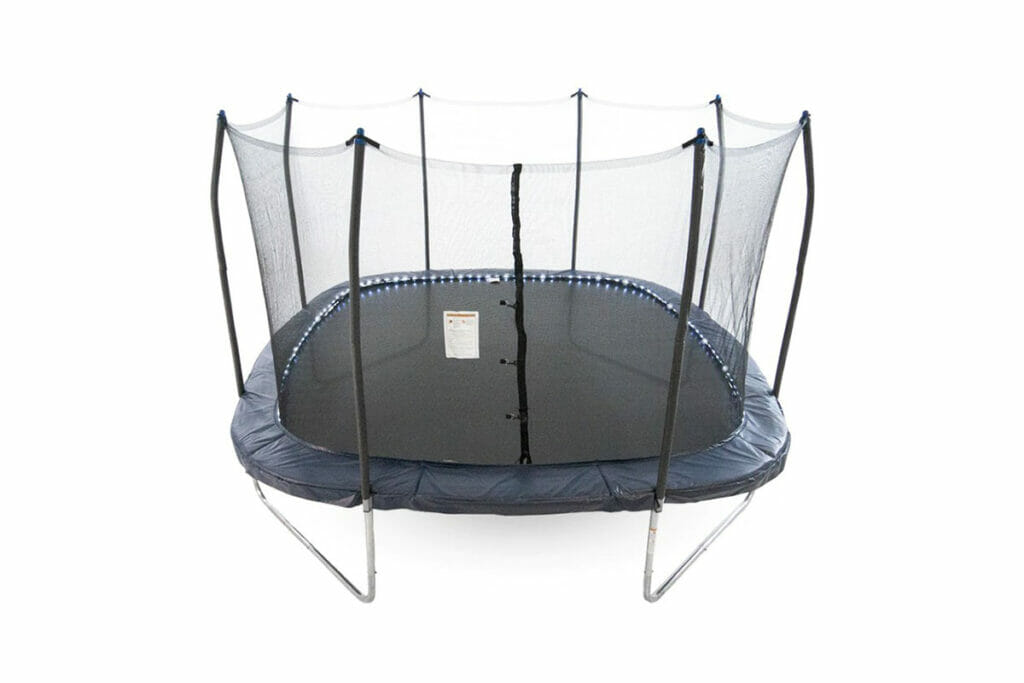 A square trampoline is certainly a less common shape than circles and rectangles, but it is not just the look that is different.
The main advantage it offers is a bigger surface area compared to similar-sized circle trampolines, giving you more material to bounce on.
While circular trampolines can be tricky to fit where you want them, especially if you have limited room, square trampolines are often more compatible with the shape of your garden.
This way, you maximize the usable outdoor space and make it look perfectly organized.
The unique selling point of this particular trampoline is its lighted spring pad. It is fitted with lots of little LEDs all around the outside, lighting up your bouncing activities.
This is incredibly useful for night-time usage, as you'll be able to see everything you're doing and won't have any unfortunate mishaps.
Of course, it is just as great in the day, and will make you and your family feel like movie stars while you exercise.
Everyone knows kids love shiny things, but these lights can be enjoyed by people of all ages.
Pros
Unique shape for larger surface area and a sturdy base.
Funky LED lights decorate the outer edge of the trampoline body.
Cons
Lights only carry enough energy for 4 hours of constant usage; however, these can be removed so you can easily recharge them (takes roughly an hour to reach full charge).
Available colors aren't very varied – 2 different shades of blue only.
Conclusion
Skywalker trampolines make a large variety of trampolines that cater to any requirements you may have.
Choose from mini, standard or Olympic size trampolines, depending on the age of the users and what they want to get out of their trampolining.
With a Skywalker trampoline, you can be sure you will be protected properly, as they come with a whole load of safety features – what's more, every single trampoline they sell comes with a net enclosure, making it impossible to fall off.
This means you can bounce without a worry, and enjoy your high-quality trampoline for many years to come.